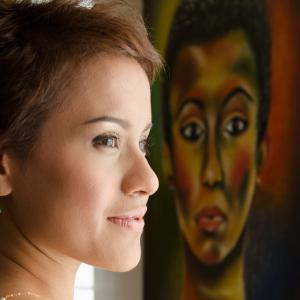 Gina Jacklin
Artist member since 2019
Guelph, Ontario
My work strives to bridge the gap between the immaterial and material world to manifest a sense of the ethereal while being grounded in the familiar and scientific. An exploration of biological systems and their 'hidden' structures as seen through a microscope is reflected in my work. Inspired by a scientific understanding of nature's complexity and informed by a Christ centred understanding of reality, I am interested in visually exploring the most basic of human intuitions - that life in all its biological forms, has been thoughtfully and purposefully designed.
Gina Jacklin (Duque) is a visual artist and graduate from Western University in London, Ontario. Originally from Cali, Colombia, she immigrated to Canada with her mother at the age of 11. Gina resides in Guelph, Ontario where she works from her home based studio.
---
Jays vs. Raptors
Raptors!
Only thing you need when you leave the house
My Purse.
Beverage of choice
Any kind of tea.
When did you start making art, and why?
My mom would say since I was about three years old when I could sit quietly for hours colouring away.
Favourite medium
Mixed Media. It allows me to create sculptural effects in my work and challenges me to re-purpose non-traditional materials in new ways.
Describe the person your work appeals to in 3 words
Minimalist, Classic, Reflective
Select Past Exhibitions
2014
Propeller Centre for the Arts, Toronto, ON
Occam's Razor
2014
Ontario Science Centre, Toronto, ON
Occam's Razor
2014
Propeller Centre for the Arts, Toronto, ON
The Body: A Celebration.
2016
New York Hall of Science, NY, USA
Science Inspires Art: Biodiversity/Extinction.
2018
The Arts Project. London, ON
Colores de Latinoamerica.
2018
Royal College of Physicians and Surgeons of Canada International Conference on Resident Education. Halifax, Nova Scotia.
The Body Electric.
2019
Durham Art Gallery. Durham, ON
Shades of White.
2019
Rotunda Gallery, Kitchener City Hall
Sowing Seeds: A Microscopic Perspective
Accolades
2019
Guelph Art on the Street
Best in Show
Press
2012
Current Oncology Medical Journal, Cover, Vol. 19, No. 3, June Issue.
'Eukarya' on Cover
Education
2013
Western University
Bachelor of Fine Arts, Honours Specialization in Studio Arts with Distinction.
SHARE THIS ARTIST
What do you mean, "try"?
Try-before-you-buy with a 3 month rental. 100% of your rental payments go towards the purchase (interest free). Message the artist directly, and start the conversation.
---
Art made (truly) affordable
We make it easy for you to try art with smart payment plans and try-before-you-buy models.
See How It Works
---
You're covered.
Artwork protection is included on all art rentals up to $5K. Our Customer Care team is always here to help.
Contact Us
---
Unlock Trade Access
For industries including interior design, film/TV production, & real estate staging: rent original pieces that fit with your project vision, budget and timeline.
Apply for Trade Access
---
1% from every transaction goes towards SKETCH WORKING ARTS.